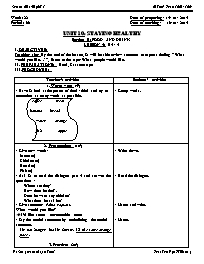 I. OBJECTIVES:
Teaching aim: By the end of the lesson, Ss will be able review structure to express feeling " What would you like ?", listen to the tape: What people would like.
II. PREPARATIONS: Book, Cassette tape
III. PROCEDURE:
Teacher's activities Students' activities
1. Warm – up: (5')
- Have Ss look at the poster of food / drink and try to remember as many words as possible.
 coffee meat
 banana bread
 water orange
 fish apple
2. Presentation: (10')
- Give new words:
+ Menu (n)
+ Chicken (n)
+ Bread (n)
+ Fish (n)
- Ask Ss to read the dialogue part 4 and answer the questions :
 + Where are they?
 + How does he feel?.
 + Does he want any chicken?
 + What does he ask her?
- Give structure: Polite request:
What would you like?
 I'd like some + uncountable noun
- Say the model sentences by underlining the model sentence.
I'm not hungry, but I'm thirsty. I'd like some orange juice.
3. Practice: (20')
- Ask Ss to make up similar dialogue in pairs.
I'm hungry. I'd like some fish. What would you like?
- Call some pairs to practice in front.
- Correct the mistakes.
- Ask Ss to look at the picture part 5/p. 111 and tell the names of food and drink.
- Play the tape 2 times and ask Ss to match the names of people with what they would like.
- Have Ss listen 1 more time and check again
Nhan: c – f
Tuan: a – d
Huong: e – g
Mai: b – h
4. Production: (8')
- Have Ss to review structure:
Is/ Are there any .?
 There is/ are .
5. Homework: (2')
 Ask Ss to learn by heart vocabulary and structures.
Prepare lesson: Unit 10 : C1, 2, 3, 4/p. 112, 113
- Group works.
- Write down.
- Read the dialogue.
- Listen and write.
- Listen.
- Pair works.
- Practice.
- Listen.
- Look at the picture.
- Listen to the tape.
- Check the answer.
- Make up the dialogue.
Is there any fruit?
 Yes, there is.
Take note.
Bạn đang xem tài liệu "Giáo án Tiếng Anh Lớp 6 - Tiết 66, Unit 10: Staying Healthy (Lesson 4) - Năm học 2013-2014 - Ngô Thị Hương", để tải tài liệu gốc về máy bạn click vào nút DOWNLOAD ở trên
 Week: 22 	 	 Date of preparing: 14/ 01/ 2014 
 Period: 66	 	 	 	 	 Date of teaching: 16/ 01/ 2014
UNIT 10: STAYING HEALTHY
Section B: FOOD AND DRINK
LESSON 4: B4 - 5
I. OBJECTIVES: 
Teaching aim: By the end of the lesson, Ss will be able review structure to express feeling " What would you like?", listen to the tape: What people would like.
PREPARATIONS: Book, Cassette tape
III. PROCEDURE:
Teacher's activities
Students' activities
1. Warm – up: (5')
- Have Ss look at the poster of food / drink and try to remember as many words as possible.
 coffee meat 
 banana bread
 water orange 
 fish apple 
2. Presentation: (10') 
- Give new words:
+ Menu (n)
+ Chicken (n)
+ Bread (n)
+ Fish (n)
- Ask Ss to read the dialogue part 4 and answer the questions :
 + Where are they?
 + How does he feel?.
 + Does he want any chicken?
 + What does he ask her?
- Give structure: Polite request:
What would you like?
] I'd like some + uncountable noun
- Say the model sentences by underlining the model sentence.
I'm not hungry, but I'm thirsty. I'd like some orange juice.
3. Practice: (20')
- Ask Ss to make up similar dialogue in pairs.
I'm hungry. I'd like some fish. What would you like?
- Call some pairs to practice in front.
- Correct the mistakes.
- Ask Ss to look at the picture part 5/p. 111 and tell the names of food and drink.
- Play the tape 2 times and ask Ss to match the names of people with what they would like.
- Have Ss listen 1 more time and check again
Nhan: c – f
Tuan: a – d
Huong: e – g
Mai: b – h 
4. Production: (8')
- Have Ss to review structure:
Is/ Are there any .?
[ There is/ are ... 
5. Homework: (2')
 Ask Ss to learn by heart vocabulary and structures.
Prepare lesson: Unit 10 : C1, 2, 3, 4/p. 112, 113
- Group works.
- Write down.
- Read the dialogue.
- Listen and write.
- Listen.
- Pair works.
- Practice.
- Listen.
- Look at the picture.
- Listen to the tape.
- Check the answer.
- Make up the dialogue.
Is there any fruit?
[ Yes, there is.
Take note.
 IV. COMMENTS:
 ____________________________________b"&"a__________________________________