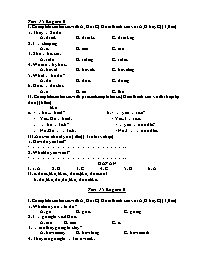 I/ Listening: Fill in the missing words ( 2,5 ms )
1. Phuong wants a bottle of
2. Ly wants a kilo of and a dozen
3. Mai wants
4. Nam wants
II/ Reading: Read the passage.Then answer the questions (2,5 ms)
 Lan is a student she lives in a small village with her parents and sister. She likes milk. She drinks milk and orange juice every morning. She is a good student at school and helpful daughter at home. She helps her mom with the housework afterschool she goes to the store for her mom. Her mom needs food, fruits and drinks everyday.
a) What does Lan do?
-
b) Does she live in a small village?
-
c) What would she like?
-
d) Is she a good student at school?
-
e) What does her mom need everyday?
-
III/ Language focus:
Match the questions in column A with the answers in column B (3,0ms):
Questions Answers
1. How do you feel? A. A dozen, please
2. Are there any noodles? B. I'm hot
3. How many eggs do you want? C. Four thousand five hundred dong
4. What color is her hair? D. a can of soda, please
5.How much are they? E. It's black
6.What would you like to drink? F. No, there aren't any noodles
Test: 15' English: 6
I. Complete sentences with A, B or C( Hoàn thành câu với A, B hay C)(3,0ms)
1. They  Soda.
	A. drink	B. drinks	C. drinking	
2. I  sleeping
A. is	B. am	C. are
3. She  his car.
	A. ride	B. riding	C. rides
4. We are by bus.
A. travel	B. travels	C. traveling
5. What  he do?
A. do	B. does	C. doing
6. He is  doctor.
	A. a	B. an	C. the
II. Complete sentences with present simple tense.(Hoàn thành câu với thì hiện tại đơn)(6.0ms)
	 like
a. -  he ... beef? b. -  you  rice?
Yes. He beef. - Yes. I  rice.
 he  fish? -  you  noodles?
No. He   fish. - No. I   noodles.
III. Answer about you(1.0m) ( Trả lời về bạn)
1. How do you feel?
- .
2. What do you want?
- .
ĐÁP ÁN
I. 1. A	2. B	3. C	4. C	5. B	6. A
II. a. does, like, likes, does, like, doesnot.
 b. do, like, do, do, like, donot like.
Test: 15' English: 6
I. Complete sentences with A, B or C( Hoàn thành câu với A, B hay C)(3,0ms)
1. What are you to do?
	A. go	B. goes	C. going
2. I  going to visit Hue.
	A. are	B. am	C. is
3.  are they going to stay?
	A. how many	B. how long	C. how much
4. They are going to  for a week.
	A. stay	B. stays	C. staying
5. She  cool weather
	A. like	B. liking	C. likes
6. Nam  soccer.
	A. play	B. plays	C. playing
II. Complete sentences with present simple tense.(Hoàn thành câu với thì hiện tại đơn)(5,5ms)
a.	A:  you like sports?	B.	A:  he watch TV?
 	B: Yes. I  sport. 	B: Yes, he  .
 	A: What do you play?	A: What  he watch?
 	B: I  soccer. 	B: He  soccer.
 	A:  you play tennis?	A:  he watch the movie?
 	B: No, I  .	B: No, he .
III. Answer about you(1,5m) ( Trả lời về bạn)
1. How often do you play sports?
- 
2. What do you do when it's hot?
- 
3. Do you listen to music in you free time?
- 
ĐÁP ÁN
I. 1C	2. B	3.A	4. A	5. C	6. B
II. a. do, do, play, do, donot	b. does, does, does, watches, does, doesnot.
Test 45 minutes
I/ Listening: Fill in the missing words ( 2,5 ms )
Phuong wants a bottle of 
Ly wants a kilo of  and a dozen 
Mai wants 
Nam wants  
II/ Reading: Read the passage.Then answer the questions (2,5 ms)
 Lan is a student she lives in a small village with her parents and sister. She likes milk. She drinks milk and orange juice every morning. She is a good student at school and helpful daughter at home. She helps her mom with the housework afterschool she goes to the store for her mom. Her mom needs food, fruits and drinks everyday.
What does Lan do?
- 	
Does she live in a small village?
-	
What would she like?
-	
Is she a good student at school?
-	
What does her mom need everyday?
-	
III/ Language focus:
Match the questions in column A with the answers in column B (3,0ms):
Questions
Answers
1. How do you feel?
A. A dozen, please
2. Are there any noodles?
B. I'm hot
3. How many eggs do you want?
C. Four thousand five hundred dong
4. What color is her hair?
D. a can of soda, please
5.How much are they?
E. It's black
6.What would you like to drink?
F. No, there aren't any noodles
Answers: 1; 2; 3; 4.; 5.6.
IV/ Writing: Use the given words and phrases to write the full sentences (2,0 ms)
Example: She/ thirsty. - She is thirsty. 
1. He/ hungry.
 2. Lam would like a glass / orange juice
 3. I/ thirsty. 
Nam goes / school. 
ĐÁP ÁN 
I/ Listening (2,5 ms)
 1. cooking oil 2. rice , eggs 3. chicken 4. bananas 
Tape transcript:
1. Phuong wants a bottle of cooking oil
2. Ly wants a kilo of rice and a dozen eggs
 3. Mai wants chicken 
Nam wants bananas 
II/ Reading (2,5 ms)
a. Lan is a student 
b. Yes, she does. 
c. She likes milk 
d. Yes, she is 
e. Her mom needs food, fruits and drinks everyday.
III/ Language focus (3,0 ms)
 1. B 2. F 3. A 4. E 5. C 6. D 
IV/ Writing (2,5 ms)
He is hungry. 
2. Lam would like a glass of orange juice
3. I am thirsty. 
4. Nam goes to school.
Test 45 minutes
I/ Listening.
 Listen the passage and cirle the best option ( A, B, C ) to the sentences: ( 2,5 pts 
1. Ba a student at Quang Trung school.
 	A. is	B. am	C. are
2. He often at six o'clock everyday. 
A. get up	B. gets up	C. geting up 
3. He has a quick breakfast and  to school at 7.00.
A. goes	B. go	C.going)
4. He classes from 7.30 to 11.30. 
A. having 	B.to have 	C. has
5. In the afternoon he soccer. 
A. play	B. plays 	C. to play )
II/ Reading
 Read the passage and circle the best option ( A, B, C ) to complete the sentences ( 2,5 pts ).(Đoc đoạn văn khoanh vào A,B,C để hoàn thành câu)
 There are four people in Minh's family, his parents, his sister and him. Minh's father is an engineer. Everyday he goes to works in a hospital in the town. He goes to work at 7 o'clock.. Minh's mother is a doctor. She works in a hospital in the town. She goes to work at 6.30'. Minh's sister is a student . She is twenty years old. Minh is twelve. He is a student at Quang Trung school.
There are .. people in Minh's family.
	A. there	B. four	C. five
7. His father is an
	A. worker	B. driver	C. engineer
8. His mother goes to work at 
	A. 6.30	B. 20	C. 22	
9. His sister is .. years old
	A. 18	B. 19	C. 20
10. Minh studies at.
	A. Tran Phu school	B. Quang Trung school	C. Le Duan school	
III. Language fucus. Complete the passage with the correct form of the verbs in brackets ( 2,5 pts ). Hoàn thành đoạn văn với dạng đúng của động từ
11. Mr Ba .. my teacher ( is, am, are ).
12. He .. me English ( teach, teaches, teaching )
13. He  to work by car ( go, going, goes )
14 His class .. at 7.30 ( starts, start, starting )
15 He . TV in the evening ( watch, watches, watching )
IV. Writing. Read the passage and answer the questions .( Đọc đoạn văn sau đó trả lời những câu hỏi)
 My name is Hoa, I'm twelve years old, I live in Tran Phu town. There are four people in my family. I like listening to music in my freetime.
 Questions
a/ What is her name ?
b/ Where does she live ?.
c/ How many people are there in her family ?.
d/ What does she like in her freetime ?.
e/ what does she do ?
ĐÁP ÁN VÀ THANG ĐIỂM
I/ Listening 2,5đ
Mỗi câu đúng được 0,5 điểm.
	1. student	2. gets up 	3. goes	4. has 	5. plays
Tapecript
Ba is a student at Quang Trung school. 
He often gets up at six o'clock everyday. 
He has a quick breakfast and goes to school at 7.00.
He has classes from 7.30 to 11.30. 
In the afternoon he plays soccer. 
II/ Reading 2,5đ
Mỗi câu trả lời đúng được 0,5 điểm.
	6B	7C	8A	9C	10B
III/ Language focus 2,5đ
Mỗi câu trả lời đúng được 0,5 điểm.
11/ is	12/ teaches	13/ goes	14/starts	15/ watches
IV/ Writing 2,5đ
Mỗi câu trả lời đúng được 0,5 điểm.
a/ Her name is Hoa.
b/ She lives in Tran Phu town.
c/ There are four people in her family.
d/ She likes listening to music in her freetime.
e/ She is a student.
Ma Trận Anh văn 6
 Mức độ
Nội dung
Nhận biết
Thông hiểu
Vận dụng
Tổng
Thấp
Cao
TN
TL
TN
TL
TN
TL
TN
TL
I.
Listening
nghe viết từ
C1,2,3,4
2,0đ
20%
4C
2,0đ
20%
II.
Reading
Đọc hiểu đoạn văn và trả lời những câu hỏi về Minh và Quang
C1,2,3,4,5
2,5đ
25%
5C
2,5đ
25%
III. 
Language
C1 sử dụng động từ tobe
C2 dùng giới từ
C3 dùng trợ động từ
C4 so sánh hơn
C5 chia động từ
C6 dùng từ để hỏi
C1,2,3,4,5,6
3,0đ
30%
6C
3,0đ
30%
IV. Writing
Sắp xếp từ thành câu có nghĩa
C1,2,3,4,5
2,5đ
25%
5C
2,5đ
25%
Tổng số câu,điểm
Tỷ lệ %
6C
3,0đ
30%
5C
2,5đ
25%
9C
4,5đ
45%
20C
10,0đ
100%
Test: English 6 (HK II)
Time: 45 minutes
I Complete the sentences with A,B,C.(3,0ms)
1. Where you from?
A. Is	B. are	C. am
2. I am  Canada.
A. from	B. to	C. in
3. Where  she live?
A. do	B. to do	C. does
4. Nam is  than Lan.
A. tall	B. taller	C. tallest
5. Nam is  tennis now.
A. plays	B. play	C. playing
6.  do you go to the zoo?
A. How often 	B. How always	C. How usually
II. Read the text and then answer the questions.(2,5ms)
Hi! Our names are Quang and Minh. We are in grade 6.We learn LAM NGU TRUONG secondary school. In the spring, we often play table tennis. We usually play badminton in the fall. We sometimes go fishing in the winter. We always go swimming in the summer. In the summer, the weather is very hot but we like it.
1. What do Quang and Minh do in the summer?
2. What do they do in the fall?
3. What do they do in the winter?
4. Do Quang and Minh go to school?
5. What's the weather like in the summer? 
III. Write sentences with words or word phares (2,5ms) 
1. Newspaper/ a/ every day/ read/ I.
2. listen to/ usually/the radio/ I.
3. his aunt/ stay/ is going to/ with/ he.
4. does/ which/ sports/ play/ Lan?
5.you/ langguage/which/ speak/ do? 
IV. Listen fill in the missing words (2,0ms)
1. There is a  near the lake.
2. Do you have candy?
3. She isn't  .
4. Ho Chi Minh City is  than the capital.
Answer
Mỗi câu đúng 0.5m
1.B	2.A	3.C	4.B	5.C	6.A
II. Mỗi câu đúng 0,5m
Quang and Minh go swimming in the summer.
They play badminton in the fall.
They go fishing in the winter.
Yes, they do.
The weather is very hot in the summer
Mỗi câu đúng 0,5m
1. I read a newspaper every day.
2. I usually listen to the radio.
3. He is going to stay with his aunt.
4. Which sports does Lan play?
5. Which language do you speak?
Mỗi từ đúng 0,5
1.house	2.any 	3.hungry	4. bigger
Test: English 6 (45 minutes) (Thi lại)
 Điểm Lời phê
Name:
I Complete the sentences with A,B,C.(3.0ms)
1. Where you from?
A. Is	B. are	C. am
2. I am  China.
A. from	B. to	C. in
3. Where  she live?
A. do	B.does 	C. to do
4. Nam is  than Lan.
A. tall	er	B. tall 	C. tallest
5. Lam is  tennis now.
A. plays	B. playing	C. play
6. How  do you go to the zoo?
A. always	B. usually 	C. often
II. Read the text and then answer the questions.(2.5ms)
Hi! Our names are Quang and Minh. We are in grade 6.We learn LAM NGU TRUONG secondary school. In the spring, we often play table tennis. We usually play badminton in the fall. We sometimes go fishing in the winter. We always go swimming in the summer. In the summer, the weather is very hot but we like it.
1. What do Quang and Minh do in the summer?
-
2. What do they do in the fall?
-
3. What do they do in the winter?
-
4. Do Quang and Minh go to school?
-
5. What's the weather like in the summer? 
-
III. Write sentences with words or word phares (2.5ms) 
1. a newspaper/ every day/ read/ I.
-
2. listen to/ usually/the radio/ I.
-
3. his aunt/ is going to stay/ with/ he.
-
4. does/ which sports/ play/ Lan?
-
5.you/ which langguage / speak/ do? 
-
IV. Listen fill in the missing words (2.0ms)
1. There is a  near the lake.
2. Do you have candy?
3. She isn't  .
4. Ho Chi Minh City is  than the capital.
1	2	3	4	5
Answer
Mỗi câu đúng 0.5m
1.b	2.a	3.b	4.a	5b	6.c
II. Mỗi câu đúng 0.5m
Quang and Minh go swimming in the summer.
They play badminton in the fall.
They go fishing in the winter.
Yes, they do.
The weather is very hot in the summer
Mỗi câu đúng 0.5m
1. I read a newspaper every day.
2. I usually listen to the radio.
3. He is going to stay with his aunt.
4. Which sports does Lan play?
5. Which language do you speak?
Mỗi từ đúng 0.5
1.house	2.any 	3.hungry	4. bigger